MSF1 – Collaboration – Peterborough Triangle
"The road solutions that we collaboratively installed have already seen a positive impact on the area. We hope that over the next few years there is a significant decrease in the total number of accidents around the triangle area."
Project: Peterborough Triangle Improvement Scheme             Contract Value: £430,000
Client: Peterborough City Council                                                 Length of Project: Approx 4 months
Partner/Associate: Ringway                                                          Completion date: 14 September 2011
Background:
The triangle was recognised as an accident hotspot with 32 accidents being recorded over the short time of 6 years. A significant number of these accidents related to the position of the zebra crossings and the Lincoln Road/St Paul's Road junction. The scheme was originally presented at the Central and North Neighbourhood meeting where comments and ideas were taken on board during the design process.
Objectives: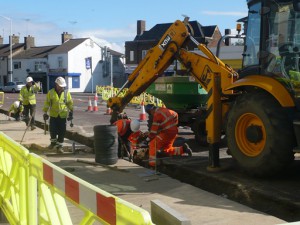 The aim was to improve the existing road system in the area and improve safety for pedestrians with fixed crossing points and a series of traffic calming measures, additional footway and carriageway resurfacing and new bus lanes. There were a number of options that were carefully considered before the plan was implemented.
Key achievements:
The installation of the new bus lane and relocation of bus shelters meant that we were able to improve the technology at the same time by using real-time bus passenger information display boards for example. The street lighting has also been improved and both an on road and off-road cycle lane has been installed.
Three new traffic islands were installed on Lincoln Road and the original island removed, new pedestrian crossings were added to Lincoln Road and St Paul's Road, a traffic calming build-out was constructed at the junction of Maskew Avenue and Lincoln Road and a parking lay-by outside of the vicarage on Lincoln Road was removed. An anti-skid surface was also put in place and new parking bays and new toucan crossings were approved for outside of the shops on Bourges Boulevard.
Looking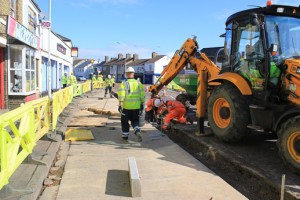 to the future:
The road solutions that we collaboratively installed have already seen a positive impact on the area. We hope that over the next few years there is a significant decrease in the total number of accidents around the triangle area. By keeping the pedestrian, road user and cyclist in mind we have been able to create accessible transport paths for all users. In future we hope to replicate a similar process when there are so many areas of the road network to take into consideration.